About Us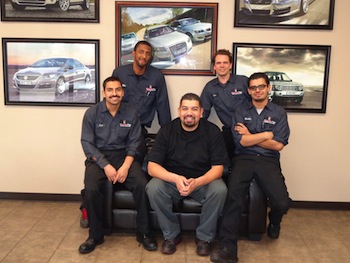 Mekaniks Plus European Specialties in Camarillo, Ca was established to serve Ventura County residents who own european automobiles. We are the only facility equipped to handle all european makes in one place. We offer a genuine dealership alternative for BMW, Mercedes Benz, Land Rover, Volvo, Jaguar, Volkswagen, Audi and Porsche. We have the latest in equipment to repair and service these vehicles. European Specialties is a local family owned facility.
Mekaniks Plus European Specialties understands the importance of finding a well-trained & qualified European import automotive technician in the Camarillo area. This is why our expert import car technician staff is professionally trained and certified. Each service technician at our Camarillo automotive service shop strives for excellence in every foreign car repair service our facility offers.
Mekanik's Plus European Specialties - Staff
Morris Rosas - Repair Shop Manager

Morris Rosas, coming from a family dedicated to the automotive industry, has extensive experience with customer service and techinical knowledge of the latest European automobiles. He is ready to serve the community.
Elena Rosas - Outside Sales Rep.

Elena joined our camarillo european shop in 2010. She is our sales rep and deals with all of the marketing for Mekaniks Plus European Specialties.
Justin (Nico) Kastrup - Shop Foreman

Justin "Nico" Kustrup has been a professional automotive technician for over 14 years and is on the leading edge of today's automotive technology. He is an expert on European vehicles. He also has vast experience with asian and domestics vehicle makes. From Diesel's to all out Electric plug in vehicle "Nico" knows your car.
Mekanik's Plus European Specialties Affiliations & Certifications
Mekaniks Plus European Specialties understands how important it is to find a quality Camarillo California automotive facility that specializes in Mercedes and BMW repair. This is why our shop values the associations we have with the reputable organizations listed below. These associations help our Camarillo European car service & repair facility to give you the confidence in knowing that your Camarillo foreign car repair and service needs will be met by our qualified import automotive technicians.
Our shop uses web technologies by AutoVitals in conjunction with ALLDATA.
We are able to personalize your service interval based on how you drive and post authorized reviews from our customers for your benefit. Please explore below a growing selection of auto repair and collision shops, which follow our lead.
Powered by: AutoVitals